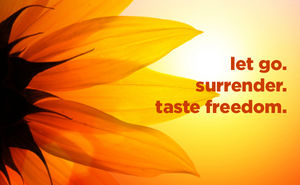 This week I continued to read excerpts  from an article "10 Things I've Let Go and How This has Set me Free" by Sara Fabia. We discussed letting go of self- criticism and blaming. These portions of the article are at the bottom of this post.
If you are looking to deepen your yoga practice and explore the Niyamas – "right living with our inner minds and thoughts", check out my schedule of yoga retreats. 2017 Yoga Retreat Schedule.
For more information about my yoga retreats click on the icon at the top of this page.
I hope you enjoy today's reading and that you have gained some tools to develop your own personal freedom.
Namaste.
I've let go of self-criticism.
I pay attention to my inner talk; I don't call myself names, and I treat myself with dignity and respect. I stopped telling myself things I would never tell a good friend. I am enough, whole, and complete.
I have come to understand that in life, we don't get what we want. We get what we think we deserve. That's why it's necessary to believe in ourselves and see ourselves as enough and worthy of the best things life has to offer.
"You've been criticizing yourself for years and it hasn't worked. Try approving of yourself and see what happens." ~Louise Hay
I've let go of blaming.
I now know that each time I blame someone else, I am making myself a victim. Blaming others for taking my time, my money, or my love is unfair, because I always choose how much I give and to whom. No one can hurt me or upset me without my conscious (and often unconscious) consent.
Instead, I now take responsibility for the way I feel, act, and think. I am in charge of my actions, and I know my future is the result of my current choices. I am what I believe and whatever I choose to be.
"All blame is a waste of time. No matter how much fault you find with another, it will not change you. You may succeed in making another feel guilty about something by blaming, but you won't succeed in changing whatever it is about you that is making you unhappy." ~Wayne Dyer