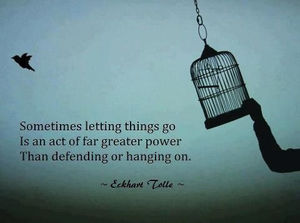 This week in my yoga classes I read excerpts  from an article "10 Things I've Let Go and How This has Set me Free" by Sara Fabia. I read the first 2 things and I got an overwhelming response, so I thought I would share it with you. I will post the next two next week. I hope you enjoy these tips.
Yoga Retreat Update:
I have received a lot of reservations for my yoga retreats. Both May & June are half way filled up. Be sure to reserve your spot early! Here is the June flier. June 10 Yoga Retreat
I've let go of the need to be perfect.
I am perfectly beautiful and beautifully imperfect, and this is what allows me to be me.
Perfection is an illusion—it doesn't exist. I stopped stressing myself out trying to be perfect and now I am always aiming for "good enough." I have learned to embrace my mistakes as much needed opportunities for growth, blessings in disguise that make me wiser. If I fail at anything, it doesn't mean I'm a failure, because I am not what I do. Sometimes we win, sometimes we learn. We never lose.
"Your best is going to change from moment to moment: it will be different when you are healthy as opposed to sick. Under any circumstance, simply do your best, and you will avoid self-judgment, self-abuse and regret." ~Don Miguel Ruiz 
I've let go of the need to be busy all the time.
Being in a rush isn't a sign of virtue. I have learned to listen to my body, and I no longer feel guilty for doing nothing. I know I sometimes need to recharge the batteries of my body and soul, and I don't feel like I owe anyone any explanation for doing that.
If I don't have time for myself, I make it. Watching a good movie, listening to relaxing music, reading a good book, singing, taking a walk to connect with nature—I do whatever makes my heart sing.
"I am a human being, not a human doing. Don't equate your self-worth with how well you do things in life. You aren't what you do. If you are what you do, then when you don't…you aren't." ~Dr. Wayne Dyer