This version of the recipe is just as delicious as the original! The difference is that it tastes a little lighter. My family loves it and it will disappear almost as soon a I make it! Try it and let me know what you think!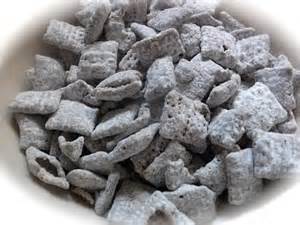 4 cups Rice Chex
1/3 cup chocolate peanut butter *
1/2 cup powdered sugar
1/2 tsp. vanilla
1/8 cup vegan butter **
* I used Dark Chocolate Dreams by the Peanut Butter & Co. I bought it at Sprouts.
** I used Earth balance vegan butter sticks. I bought it at Sprouts.
Put the Rice Chex in a large bowl and set aside.
Put the chocolate peanut butter and the butter in a bowl and put in the microwave for 1 minute. Stir and place back in the microwave for about 30-60 seconds.
Stir in vanilla. Pour chocolate mixture over the Rice Chex and mix well until the cereal is well coated. Place in a plastic container and add powdered sugar. Place lid on tight and shake until cereal well coated with sugar. Store in the refrigerator and enjoy!