Di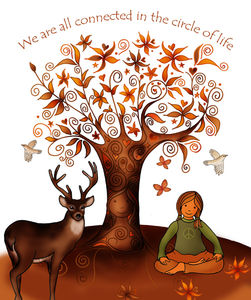 rect contact with nature can soothe us and elevate our mood. Unfortunately, most of us work inside all day and have limited time to spend outdoors. The good news is that your mind is capable of remembering the sight, sound and textures of nature.  Here is a short meditation to help you reconnect and find calm in your busy life.
First sit comfortably or lie down on the floor.
Take a few moments to find your breathe.
See the inhalation and exhalation.
Feel the rhythm of your breathe, like the rhythm of the ocean.
Feel the connection of your body to the earth.
Allow your self to feel safe and to let go of any of life's pressures you may be experiencing.
Let the earth support you.
Imagine the roots of a strong oak tree deep in the earth.
Acknowledge the strength and beauty of the tree.
Now imagine you plant your roots deeps into earth.
You feel grounded and in control.
Embrace the connection to your tree.
Invite your heart to open and the mind the let go of stress.
Stay in this space a few minutes.
Continue to ride the wave of your breath.
Plant the image of your tree in your mind.
Picture your tree anytime you need to reconnect to nature and to yourself.
Slowly deepen your breathe and begin to open your eyes.
Sit here again for a few moments as you process the world around you.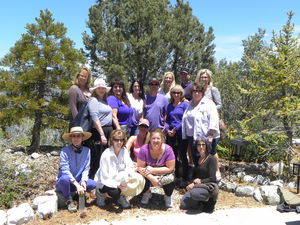 If you are looking for ways to physically connect to nature sign up for one of my yoga retreats. Spend a day in the mountains enjoying the clean air and beautiful trees. The early bird rate is $60.00 for the day, which includes 2 yoga classes, lunch and a hike/activity. I am taking reservations for my yoga retreats July-October. Just click on the links below to see the schedule, and July flier.
Namaste.