This is my new favorite treat! This pudding is very easy to make. Just be sure to use a whisk and stir the entire time. You can find So Delicious Chocolate Coconut Milk at Sprouts and Whole Foods. This chocolate coconut milk is seriously yummy! I use it in my coffee when I am craving a  mocha coffee!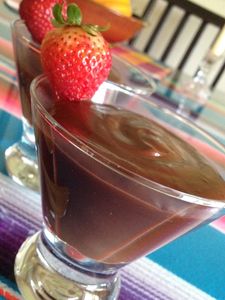 Vegan Triple Chocolate Pudding
Rating: 51
Prep Time: 2 minutes
Cook Time: 10 minutes
Total Time: 12 minutes
Yield: 2 servings
This sweet recipe was created by Gail Davis, and shared with us by So Delicious Dairy Free. You can also visit So Delicious on Facebook (they often have coupon offers!).
Ingredients
3 tablespoons natural cane sugar
2 tablespoons cornstarch
1/8 teaspoon salt
1 tablespoon cocoa powder
1/4 cup dairy-free dark chocolate chips
1/2 teaspoon vanilla extract
Instructions
In a medium bowl, whisk together the sugar, cornstarch, and salt until well combined. Set aside.
In a small saucepan over medium heat, combine the coconut milk beverage, cocoa powder and chocolate chips, and cook (while whisking) until the chips have melted into the milk beverage.
Once the chips have melted, pour in the dry ingredients and continue whisking until the pudding begins to boil.
Turn the heat down to low, and stir until the pudding thickens and coats the back of a spoon.
Remove from the heat, stir in the vanilla, and pour the pudding into individual serving cups.
Serve warm or chilled. The pudding will thicken as it cools.
Schema/Recipe SEO Data Markup by ZipList Recipe Plugin
2.2
http://www.godairyfree.org/recipes/rich-vegan-chocolate-pudding