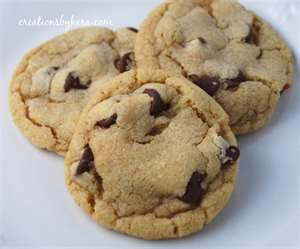 2-3/4 cups all-purpose flour
3/4 cup packed brown sugar
1/2 regular sugar
1 cup Earth Balance vegan butter
1/2 cup unsweetened apple sauce  and 2 tsp baking soda
2 tsp vanilla extract
2 tsp baking soda
1 tsp salt
Vegan chocolate chips ( 6-8 oz)
Mix flour, salt, and baking soda in a medium bowl with a wire whisk. In a large bowl mix sugars and butter with an electric mixer until light and fluffy. Add  applesauce/baking soda and vanilla. Slowly add flour mixture and mix thoroughly. Stir in chocolate chips.
Baking options:
Cookies- scoop about a tablespoon of dough and roll into a ball. Place on a cookie sheet and bake at 375 degrees for 8-10 minutes.
Cookie cake- For best results use foil cake pans. Split dough into 2- 8 inch square foil pans. Lightly smoothen out dough evenly in pans. ( do not press into pan)
Bake at 375 degrees for 15-20  minutes. Check with a tooth pick to make sure done.  ** If using a glass pan 20-25 minutes.
Tip:  I use my Kitchen aid mixer and just add the ingredients a little at a time. I start with sugar and applesauce mixture then add flour mixture.
Non- vegan option: replace applesauce mixture with 2 eggs and replace vegan butter with  1 cup of butter or margarine.