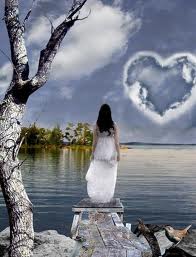 From Daily Om- written by Madisyn Taylor ( partial article)
We can see the good in all when we come from a place of serenity and looking deeply within.
Sometimes we find it difficult to see the good in people, places, or situations that aren't to our liking. We focus on the things we don't like in our lives as a way of fueling our efforts to create change. There is nothing inherently wrong with this, and it is one way we make progress. However, if we get too caught up in this way of looking at the world, we lose touch with our ability to sit back and simply say yes to everything on our plates, which is the true starting point for all successful activity. Sometimes what we really need is to encourage ourselves to look deeply into all things in our lives to see the inherent goodness at the heart of everything.
In our active, goal-oriented culture, we learn to distrust stillness and to engage in busywork on the surface of life. This tendency can blind us to the good that lies at the heart of all things. But all we have to do to see again is stop for a moment, let go of our preconceptions and our agendas, and settle into the very center of our hearts, remembering that it is only from here that we can truly see.
For more information visit dailyom.com