I have noticed that many of my students have been having neck pain. Many times neck pain is a result of stress. Breath work  is one way of releasing this nagging tension.
"You can run, but you can't hide. No matter how careful you are to avoid putting yourself in taxing situations, as long as you're living on this earth, stress will hunt you down and wreak havoc on your day. More often than not, it will set up camp in your neck and shoulders, causing even more tension and discomfort". – Yoga Journal
If you're stressed out today, breathe deeply as you try this easy neck release:
Neck Blanket Stretch – By Barbara Benagh
Roll a blanket into a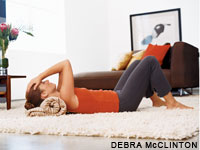 firm, even cylinder large enough to wedge between the base of your skull and the tops of your shoulder blades. Lie back over the roll so it gently stretches your neck; the roll should wedge just under the occipital ridge at the back of your skull and support your neck and your first few upper back vertebrae. Keeping your knees bent, place both palms on your forehead, fingers pointing toward the crown of your head, and bring your elbows close to each other. Close your eyes and tune in to your breath, feeling how its rhythm creates subtle movement. Notice areas in your neck, shoulders, and upper back that seem dense, dull, and resistant to the breath's wavelike action, and invite them to relax against the blanket roll. As your muscles begin to release, slide your shoulder blades away from your skull; you may want to repeat this movement several times as your muscles continue to relax. Remain on the roll for up to five minutes, then remove it and continue to lie on your back for a few breaths, tuning in to the sensations in your neck, shoulders, and upper back.