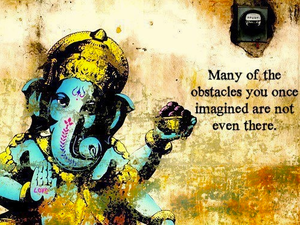 One of my yoga mentor teachers posted this picture on her Face Book page. It really struck a cord with me. This past month I have been battling one of my many arthritic flair ups. I get frustrated because as soon as I get one body part calmed down, another flairs up. Sometimes I feel like all my efforts are not working. It is as if one obstacle after another is being thrown my way. This quote helped me get out of this way of thinking. My pain is not an obstacle, it is a pathway to a deeper understanding of my body and a way for me to connect on a deeper level with my students. I have come to realize that this so called disease is a blessing. I have learned so much from my doctors and physical therapists and I am sharing this knowledge with my students. I may not be able to everything that I used to do, but I have come to understand that there is a lot I can still do! I am grateful that I have the tools, knowledge and support to find new ways to help myself and others.
"Regardless of the severity, intensity, frequency, or duration of any condition that would cause you dis-ease, Spirit can and will inspire you to the most perfect cure: self-acceptance and unconditional Love"- Steffany Barton, RN 
If you have arthritis or are recovering from an injury, or you want to take your practice to the next level, I can help you with private yoga lessons! You can contact me through this webpage by clicking on "private yoga lessons".
I am running a special through June 30, 2013. I am offering 10% off any lessons!