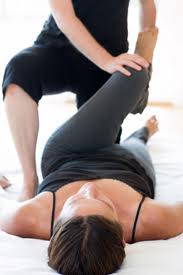 From Yoga Journal. com
Injuries caused by a hatha yoga practice are usually minor and limited to simple ligament sprains and muscle strains, with the occasional slip, fall, or forced adjustment. The most common injuries are caused by repetitive isometric strain or overstretching and occur at the wrists, shoulders, neck, along the spine, and at the sacroiliac joint, hamstrings, and knees. If not addressed, these minor setbacks can have a long-term impact on the balance of alignment within the practice. Some yogis even bring ailments to the mat, which can also have lifelong effects upon range of motion, breathing, supply of energy, and quality of meditation.
When you see injury in any activity—including yoga—it's often a question of someone trying to do too much too fast. That's why it's essential to learn proper alignment and respect your body's limitations. Study with an experienced teacher, learn slowly, and move mindfully to lesson your chances of an unnecessary yoga injury.
If you are interested in private yoga lessons with me, contact me on the "private lessons tab".