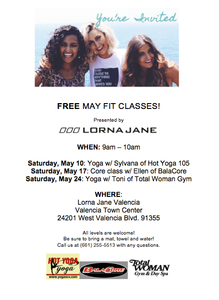 This Saturday May 24 I will be leading a FREE yoga class in the fitness clothing store, Lorna Jane , located in the outdoor area at the Valencia Town Center. The class is at 9 am and will be held inside the store. I hope to see you there! Please bring your yoga mat and a smile.  : )
On a side note, you can see that my web page is up and running again. I want to give Hillary Neaf a BIG thank you for restoring my site. You are amazing Hillary!!!!
If you would like to schedule private yoga lessons with me you can click on the Private Lessons tab or comment on this post.
"True yoga is not about the shape of your body, but the shape of your life. Yoga is not to be performed; yoga is to be lived. Yoga doesn't care about what you have been; yoga cares about the person you are becoming. Yoga is designed for a vast and profound purpose, and for it to be truly called yoga, its essence must be embodied."
— Aadil Palkhivala
Namaste.