Upcoming 2018 Yoga Retreats
The yoga retreats sell out fast, so reserve your spot today. Only 2 more left this year! Come join me at my studio in Pine Mountain Club. 
To sign up, scroll down and enter your information where it says please sign up here and note which yoga retreat(s) you are interested in. This will send an email to me and I can let you know if there is space open in the retreat(s).
"Attending the August 2018 retreat was my first time practicing yoga in over 6 years. I was a little nervous at first about how intense the day would be. From the start Toni and everyone were very welcoming. The retreat is held in her home studio which was spacious, comfortable and had a nice mountain breeze coming through when the windows were open. The yoga practice was not intimidating at all! Toni had a fun music selection that keep everyone motivated and made the practice very enjoyable and relaxing! I loved the breakup of the day with the hike on the Snowflake trail. Overall, this retreat made me realize how much I missed my yoga practice. Toni creates a beautiful day full of relaxation, laughter and fun! " – Amanda Bunch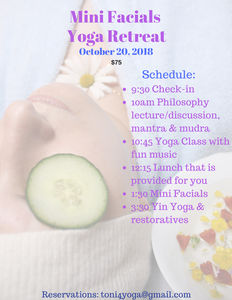 October 20, 2018 
Please sign up here – Yoga Retreats